Nags Head Upcoming Events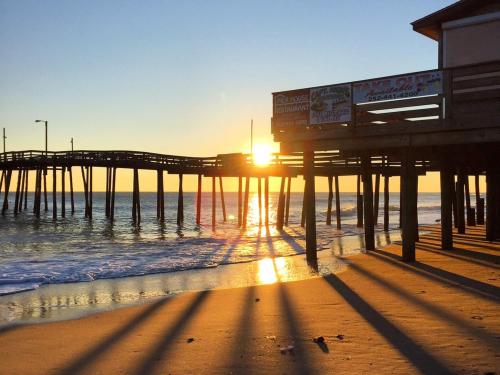 May 27 2019 - Rock The Cape Festival

Culinary art will join the visual and performing arts at Dare County Arts Council's sixth annual Rock The Cape Festival, which will return to Hatteras Island Memorial Day weekend.
June 1-7, 2019 - Triple–S Invitational
Featuring 32 of the world's most influential kite-boarders, the prestigious Wind Voyager Triple-S Invitational will take place at REAL Watersports in Cape Hatteras, NC.

July 4, 2019 - 4th Of July
Join us on the Outer Banks this Fourth of July as we celebrate with fireworks, fun, festivities and more! This year, our area will host four fireworks shows at the following locations: Avalon Pier in Kill Devil Hills, Nags Head Fishing Pier in Nags Head, fireworks over the sound in Manteo, and the Avon Fishing Pier in the village of Avon on Hatteras Island

August 14-15, 2019 - 38th Annual New World Festival Of The Arts
"New World Festival of the Arts is a show where people can experience the very best of fine art and craft," said Dare County Arts Council staff member and New World Festival of the Arts show organizer Louise Sanderlin. "Whether artists are new to the show or have participated the past 37 years, each year we are always surprised by the volume of creativity and new collections shown"

September 13-14, 2019 - Day At The Docks
A celebration of Hatteras water-men with seafood cooking demos, fishing boats and gear, fishing industry skills contests and competitions, live music and games for children.

September 15-21, 2019 - ESA Easterns Surfing Championships
The largest amateur surfing organization in the world hosts the season's "grand finale" where the best of the best surfers go head to head. Whether you want to compete or just like to surf, the ESA welcomes everyone!

October 12-13, 2019 - Duck Jazz Festival
The Town of Duck brings jazz to the Duck Town Park annually on Columbus Day weekend. Enjoy live music from a variety of jazz performers beginning on Saturday, October 6, 2018 which continues on Sunday, October 7 with a full day of performances on two stages at this non-ticketed festival.
October 15-20, 2019 - Wings Over Water Wildlife Festival
Wings Over Water Wildlife Festival is one of the premier wildlife festivals in the United States. It is comprised of dozens of birding, paddling, photography, art and natural history trips, tours and programs.
October 19, 2019 - Outer Banks Seafood Festival
Outer Banks Seafood Festival is a fun and educational experience promoting, honoring and celebrating the area's seafood heritage and community. You'll find cooking demonstrations, educational booths and, best of all, the chance to eat fresh, local seafood from more than a dozen restaurants!
October 26, 2019 - Outer Banks Brewtag
Flying kegs, a beer garden featuring over 20 local and regional beers, kids zone featuring arts and crafts and a mechanical shark, live music, local food vendors … you can't ask for much more!
November 9-10, 2019 - OBX Marathon & Southern Fried Half
The Outer Banks Marathon is 26.2 miles of beautiful OBX coast line. While running, one can enjoy the relaxing feeling of being at the beach. The TowneBank Outer Banks Marathon is a Boston Marathon qualifying race.
December 17, 2019 - 116th Celebration Of The Wright Brothers First Flight
Witness an aviation flyover that will pay tribute to the Wright brothers at the documented exact moment of the Wrights' first flight. You can observe the exact spot where the first flight occurred.
November – January - Winter Lights
Stroll along enchanted garden paths and discover the joy of the season with holiday lights, sights and sounds transforming The Elizabethan Gardens into an illuminated winter wonderland. The radiant glow of the gardens, traditional holiday décor and fantastical displays are a true spectacle to behold.
December 31, 2019 - New Year In The New World
What's everybody doing for New Year's Eve? They're heading to downtown Manteo for the inaugural New Year in the New World celebration! The town is closing the downtown streets so that everybody can gather for live music, family-friendly activities and an early ball drop for the kids.
Information Courtesy: www.outerbanks.org